NEW 15mm, 22mm And 28mm Copper Iron Wall / Floor Flanges For Custom Pipe Furniture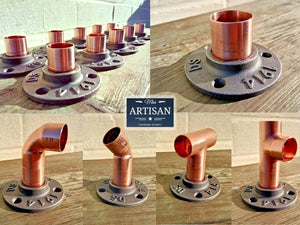 Make your own custom copper pipe furniture with our ready made malleable cast iron wall and floor flanges.
Our flanges are available in 15mm, 22mm, 28mm, 35mm and 42mm . The copper is fused in to the flange and will not come out it's permanent and very strong.
All our copper is WRAS approved.
All our flanges are registered and certified with the UK IPO.